NOPPIES BABY COMFORT
Footmuff guide
Why opt for a Noppies Baby Comfort footmuff
Doesn't that look lovely and cosy, one of those footmuffs for the Maxi-Cosi! Warm, functional & incredibly handy for when you're out and about with your baby. It's quite difficult for a baby to control his or her own body temperature, especially in those very early days and parents sometimes have quite a job finding out about their baby's exact needs. A footmuff can offer the perfect solution and the handy openings for seatbelts means it fits on all 3 and 3/5 point Maxi-Cosi's.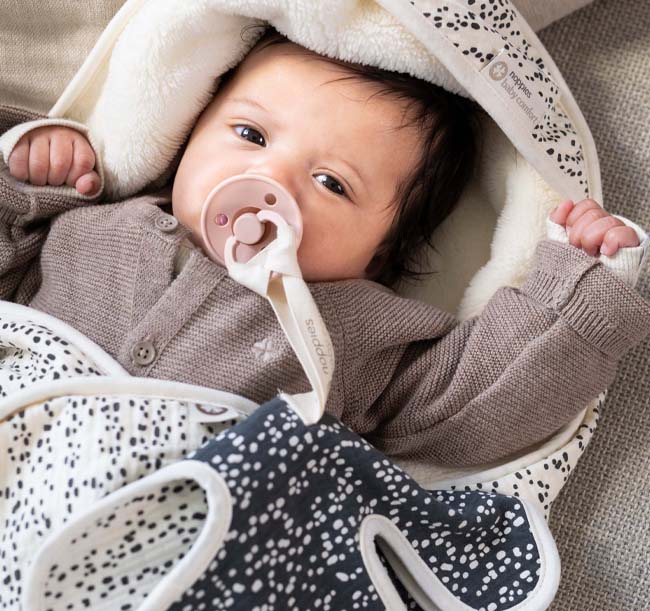 What is a footmuff
A footmuff has been especially designed to keep your little one nice and warm in the car or outdoors. It often comes with a hood, as your baby's body temperature is largely regulated via the head. You can easily detach the hood with the press studs if you suspect your little one may be getting a little bit too warm whilst you're out and about.
The Noppies Baby Comfort footmuff boasts a number of handy features, which will make things just that little bit easier for both you and your baby whilst you're out and about. For example, the footmuff has either a double zip or a round zip, which you can easily open up for a quick nappy change, or to fasten the seatbelts that little bit more, making sure your baby is safe & comfortable.
And finding pacifiers in impossible places in the Maxi-Cosi because it simply has no fixed place is now definitely a thing of the past! The handy pocket on the footmuff has been specifically designed for the pacifier. A little tip: if you also go for the pacifier hanger in the same print, then you can easily pull the pacifier out of the pocket whenever it's needed.
A footmuff is really only needed when it's starting to get a little chillier out there! Footmuffs generally have a high TOG value. However, TOG values only give advice for indoor use, whereas you'll mainly be using this footmuff outdoors. So always make sure you pay careful attention to the ambient temperature and unzip the footmuff if, for example, you are taking the Maxi-Cosi back inside from the car. We would always advise against using the footmuff in combination with a (winter) jacket or wrap. You always have the option of feeling your baby's neck to see if he or she is getting a little too hot. Does it feel a little clammy? That means your baby is a little too warm right now.
The poplin footmuff has a TOG value of 3.0.The teddy footmuffs, with an extra soft inside, have a TOG value of 4.5.
How to secure the footmuff in the Maxi-Cosi
Curious about how to use a footmuff, or how to secure it in the Maxi-Cosi? We'll show you how in this handy video! And would you like to read more about it too? Then click here.
Vergelijking voetenzak voor autostoel
Heb je al een autostoel aangeschaft? De Noppies Baby Comfort voetenzak is geschikt voor de meest gangbare autostoelen. Vergelijk hieronder of de Noppies Baby Comfort voetenzak geschikt is voor jouw type autostoel. Uiteraard is de voetenzak ook te gebruiken in de kinderwagen.
Looking for more inspiration?