Wow, you're pregnant!
You are entering a special time in your life, that's for sure! However, every woman experiences this first trimester in her own way. Where for some it feels like a big pink cloud, for others it feels like a tornado. And where some women share the news with the whole world, others want to keep the pregnancy to themselves for as long as possible.
There is no right and no wrong. Although your pregnancy is still in its early stages, you can now start to get your bearings. Which obstetrician do you go to? What maternity clothes do you see yourself walking around in in the near future? How is your body changing and do you have everything that you and your baby will need? Here are our tips for the first 12 weeks.
A changing body
Although there is a lot happening on the inside of your body, it is the changes on the outside of your body that you will mainly concern yourself with. How soon will everyone see that you are pregnant? And how long can you wear your own pants, shirts and bras? When it comes time for maternity clothes, our advice is to mostly buy your regular size. After all, maternity clothes are completely tailored to your pregnant shape.

Start with maternity essentials
It may feel early to buy maternity clothes during the first trimester, but it's actually smart to do so early in your pregnancy. This way you ensure that you already have a new bra or jeans in the house when it starts to pinch. Even during the first few months, your body takes on different forms. Your breasts become larger and more sensitive. Your belly will grow more and more.
The Noppies Maternity Essentials collection is specially designed for these changes. A collection full of must-haves that you need during your pregnancy, such as a good denim with a supportive belly band, and a bra with a custom underwire and a nursing feature so that you can even wear it after your pregnancy. It also features seamless leggings and tops with extra support made from cooling SENSIL Breeze fabric that is so soft, it feels like a second skin! All that is necessary to guide you through your pregnancy as comfortably as possible.

Maintain your own style
As your body undergoes changes, it becomes a challenge to maintain your own style. We also understand that you don't want to buy a whole new wardrobe for this short period of time either. The Noppies Maternity Essentials collection consists of basics that you can easily combine with items that you already have in your closet. This way you can still maintain your own style!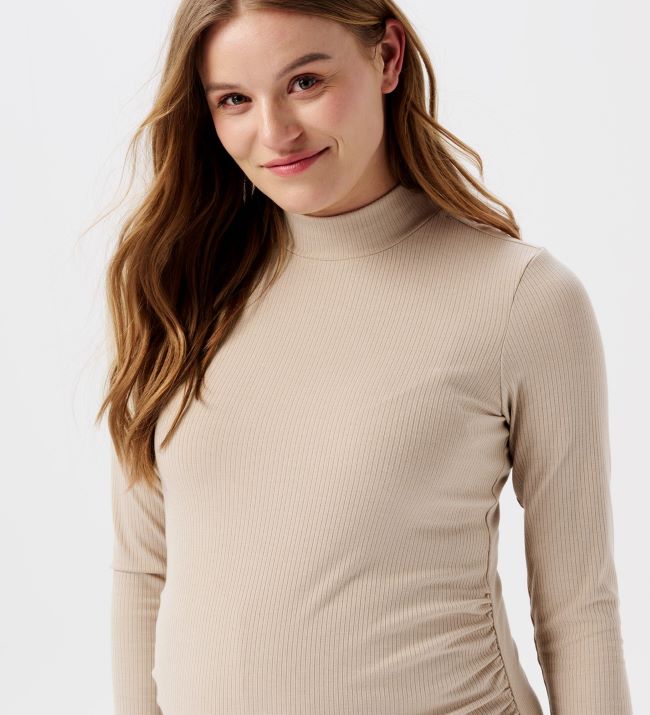 Shop Noppies maternity clothing now
Your body will already be starting to take on a different shape during these initial months. Your breasts will become larger and more sensitive. Your belly will naturally continue to grow in size.
That's why we would definitely recommend wearing maternity clothing quite early on in your pregnancy. That's because this clothing is specifically made to give your body all the room it needs to grow.
Plus you'll be able to get the absolute maximum out of your clothing, as you're already starting to wear it during your first trimester. And a little bit of smart shopping will ensure you can also continue to wear these items during the period after giving birth too.
Must-haves
Some items are nice to buy early on in your pregnancy: a well-fitting pregnancy bra , super-soft loungewear and a denim . Here's why: With a maternity bra that fits you well, the mammary glands on the sides of your breasts will have plenty of room to grow. Highly recommended: our seamless bras. These are even more comfortable!
The first trimester can be very tiring. This is why it is extra nice to be able to put on cozy, super-soft lounge pants and a top after a long day . Finally, the denim is perfectly tailored to your constantly changing body. Our jeans are super stretchy and have a convenient adjustable waist. All pants feature the Noppies Belly Band, which stretches with you but also contracts and does not bulge. We bet you'll want to wear the jeans during your maternity period too!
Our latest items for your little one
Most pregnant ladies won't be able to help themselves and start looking at all the things they'll need for their baby, and possibly even buy that first little outfit, during their first trimester. Quite logical of course! You can already start having a look at our baby clothing in our Noppies brand stores and in our webshop. We have created an easy overview of our latest items.
From a midwife to planning your first ultrasound
Most women simply can't help themselves and end up having a good look around and buying that first cute little outfit during the first trimester. You can already start having a look around in our Noppies brand stores and in our webshop. It's definitely also a good idea to get a few practical matters sorted during this first trimester. Like finding a midwife.
You'll often see your midwife for the first time once you're between 8 and 12 weeks pregnant. It's a good idea to find out what extras a doctor's surgery can offer you, like evening appointments, or whether the surgery do their own ultrasounds, or if you'll need to go to a separate ultrasound centre. One final tip: make sure you keep a pregnancy diary with some progress photographs. It's always a good idea to buy some trousers or a dress which you'll continue to wear throughout your pregnancy and constantly taking progress photographs in this item of clothing. Go and discover your favourite from our maternity collection!
Looking for more inspiration?