Denim never goes out of style, making it a must-have for your maternity wardrobe. Denim is often the first item that becomes uncomfortable once your body begins to take on a new shape as your baby grows. Check out our denim guide and find the pants that best suit your style!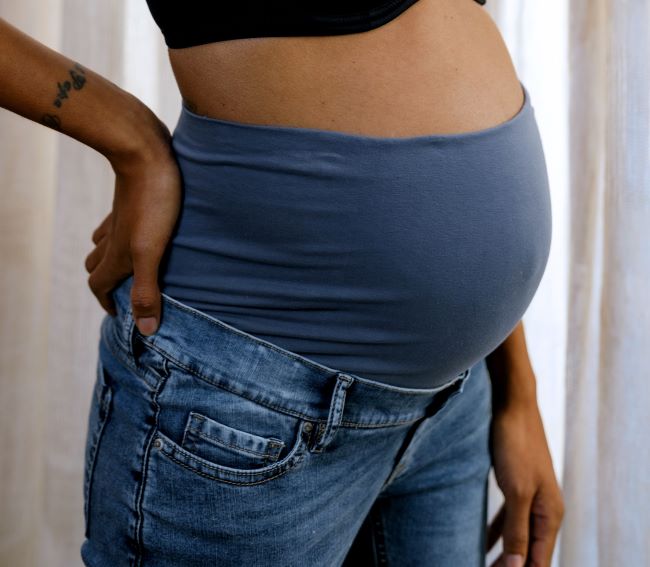 Maternity jeans
Maternity jeans are specially designed to be comfortable and supportive for the expectant mother, while still having the stylish look of regular jeans. Various types of denim are available, including skinny jeans, mom-fit, jeggings that adjust to your growing belly, and denim shorts that are the perfect addition to your summer wardrobe. When choosing a maternity denim, it is important to consider the fit, the fabric and the level of support provided. The right maternity denim will keep you comfortable and stylish throughout your pregnancy.
Our Noppies Belly Band
All our pants feature the Noppies Belly Band: a belly band made of strong and soft materials that adapts to the pregnant woman's changing body. The Belly Band is made of sturdy and durable material that also stretches back and will not lump.

Jeggings
You can pair these super-stretchy jeggings from the Noppies Maternity Essentials collection with anything. These pants have a convenient adjustable waist that gives your belly plenty of room to grow. The elasticated organic-cotton belly band is a nice extra form of support. Noppies's standard jeggings are slightly higher in the back and slightly lower in the front. This ensures that the pants are really comfortable. Also, the waistband is elastic for extra comfort.
Skinny Jeans
These sturdy skinny jeans by Noppies are super-stretchy, which makes them nice to have during your pregnancy. So that they grow with your belly, the skinnies also feature an adjustable waistband. Thanks to the comfortable, elastic waistband, your belly is given extra support.
Straight Fit
Looking for straight-fit maternity jeans? These pants by Noppies have straight legs that are nice and loose so that you can move freely. The elastic waistband provides extra support for your pregnant belly. The waistband is adjustable, so you can keep wearing your favorite jeans throughout your pregnancy. 
Shop straight jeans

Shorts
Do you like to wear jean shorts during the summer? You can also do this during your pregnancy. The Noppies Maternity shorts are nice and stretchy, and have a supportive belly band that is specially designed for your pregnant shape. Extra nice: The waistband is adjustable so that you can easily make it fit around your growing belly.
We wish you lots of fun choosing your maternity jeans! Do you already have a favorite fit? All our latest jeans are available online!
Would you like to receive a few more tips for purchasing your new favorite maternity jeans? We've also compiled 5 useful jeans tips for you.